Avon Skin So Soft Reviews and Benefits
Posted on by admin
Avon skin so soft reviews – Avon skin so soft original dry oil is a light non- greasy dry spray that locks in essential moisture after bath or shower and is advertised as suitable for all skin types. It's one of Avon cosmetics fast selling products with overwhelming buzz online about its insect repellent benefits. Avon has recently introduced a new version with added jojoba oil. Avon skin so soft dry oil/ Avon skin so soft reviews is available all year round but its sales seem to skyrocket over the summer periods which may explain the rave online associated with its insect repellent benefits. It's normally priced at £5.20 but at times can be purchased from as little as £1.99 from Avon or one of their representatives. Avon skin so soft dry skin  dry oil is best known for  as an alternative for deterring insects, mosquito's and midges .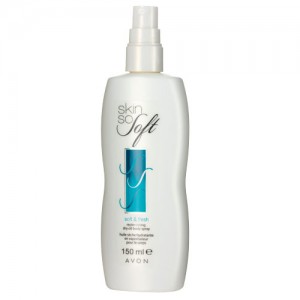 Avon skin so soft dry skin oil comes in a white bottle with a touch of light green. Its normal size bottle is 150ml but Avon recently sold some 50ml travel size ones which are still available in the market at time of writing this post. Both bottles appear pretty durable and are made out of plastic. Avon skin so soft dry oil contains citronella oil which is essentially a popular 'natural' insect repellent which have been verified by research. In addition research also indicates citronella oil as an effective repellent for body louse and head louse (Wikipedia). This product has been deem favourable by the many due to the absent of stronger chemicals such as DEET (Diethylt Toluamide). Avon skin so soft dry oil has worked its way up to film stars to prove its popularity as mentioned in The Daily Telegraph.
"Obviously we don't market our product as a midge-repellent, but its reputation has spread by word of mouth," says Lydia Durkan of Avon. "We know that film crews use it a lot when they are up in Scotland and Mel Gibson used it when he was making Braveheart here. We're very pleased that it's proving so popular."
Based on many positive Avon skin so soft reviews this product is known to work well and act as:
Insect repellent
Helps skin feel  soft
Non- greasy with quick absorption
Non-sticky
Pleasant smell unlike other insect repellents with strong toxic smells
Helps locks in moisture
Lightweight hence great for to pack for all outdoor activities & Holidays (Avon so soft Travel Size Here)
Easy to use
Can help tan last longer
Great affordable price.
Avon skin so soft reviews –  Avon skin so soft dry oil continues to flourish from a it's great reviews although  a few have made claims that it does not work well for them and this may simply  be due to lapse in reapplication times as needed. In saying that, the numbers of good reviews have outweighed the few negatives ones.
Conclusively, Avon skin so soft dry oil is highly recommend for all during the summer period, when going away on holidays or any area of exposure to insects bites. It's best used as a preventative measure reasonably priced and can be easily found online.